Exuma's tourism product is expected to receive a much-needed boost next month when the Exuma Half Marathon returns, with a record number of runners ready to depart from Regatta Park.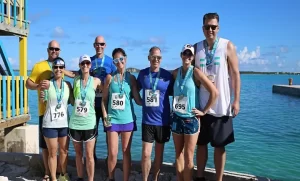 With the 8th annual race fully in person, the event's organizers say there has been unprecedented enthusiasm from tourists and locals alike.
"The last two years or so have been hard on everyone," says Jeff Todd, who founded the Exuma Half Marathon, Featuring the Run for Pompey, with Kevin Taylor in 2015.
"It's clear that people are excited to be back to in person for this outdoor event. We are expecting 300 plus runners, which would be a new record for us. Our sponsors have also stepped up in a big way, so this year we are just seeing a big outpouring of support from both the community and tourists eager to be back in Exuma. Meanwhile, as a non-profit, every dollar collected from registrations will go towards a great cause."
Exuma Half Marathon raises funds for The Pompey Scholarship, awarded in June to one graduating student from LN Coakley High School in Exuma, so he or she can pursue post-secondary education that fall. Students must submit an application to a school committee, demonstrating a financial need and why this scholarship will make a difference in their lives.
Eairik Bullard, who received the award last summer, cited the death of his mother as his inspiration to succeed.
"She was a huge supporter of my academic endeavours and she helped to push me to greater heights," Bullard writes. "Her wishes for my life are what pushes me to do better every day – going to college, graduating with a degree and living my dreams. I made a silent promise to myself that I would complete her dreams for my life and make her proud of me on that graduation stage."
A total of eight scholarships have been awarded since 2015, Todd adds.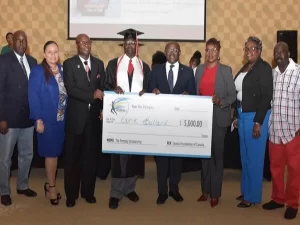 The Run for Pompey, a community run of just 2km around the pond in George Town, and annual The Pompey Scholarship, are named after Pompey, the slave who in 1830 led a rebellion on Exuma. Thanks to his courage and resilience, Pompey stopped the transfer of 77 men, women and children off the island.
This resistance is now considered a key precursor to emancipation in The Bahamas, which occurred in August 1938.
Fast forward to 2022, Exuma Half Marathon has become an anticipated date on the tourism calendar. On November 12th, four races will leave from Regatta Park, including a 2K, 5K, 10K and half marathon.
All runners will receive a commemorative t-shirt, swag bag and the coveted "Piggie Medal", a tip of the hat to the world-famous swimming pigs.
Pauline Davis, double gold medalist and The Bahamas' original "golden girl", will once again serve as event patron, draping a Piggie Medal around each and every neck that crosses the finish line.
"Returning to Exuma and being event patron was an easy decision," the Bahamian icon explains, who released her memoir earlier this year, Running Sideways: The Olympic Champion Who Made Track and Field History. "This event ticks all the boxes, in my view. It supports the island and brings in tourism dollars. It teaches us history and supports a student every year. And it brings our communities together. I can't wait to see everyone in November."
This year, Exuma Half Marathon will feature a festival atmosphere in Regatta Park, Taylor adds, who also serves as Race Director.
The Bahamas Ministry of Tourism is stepping up to provide live entertainment, food stalls, activities for children and other attractions once the race is over, with the celebration going well into the afternoon.
"Whether you are a runner or not, there will be something for everyone," Taylor says.
The event is supported by a dedicated group of supporters, including: GIV Bahamas, BAF Financial & Insurance, Sands Beer, Caribbean Bottling Company Limited (Dasani and Powerade), Friends of Exuma, Glinton, Sweeting O'Brien, Diane Phillips & Associates, Aliv, Grand Isle Resort & Residences, Peace & Plenty, Exuma Markets, Chat N Chill, Cash N Go, BahamasLocal.com and Athletica.
To register, runners can visit the event's website (runforpompey.com), or sign up in person in the lead up to the race.